With all great improvements in the Blender Game Engine we're getting flooded with positive response all over, including professional game makers, colleges and studios. It really looks like this poor neglected part in Blender has love and attention again from everyone! A 3D creation tool combo with a GE is still a great concept, opening up new opportunities and markets for Blender artists.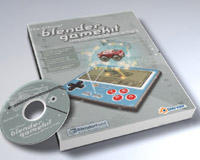 I'm very happy to announce that Carsten Wartmann, writer of many Blender books and main author of the Blender Gamekit, has accepted to start working on a fully updated version of the Blender Gamekit! This project, including DTP/design by Samo Korosec, is scheduled to finish during november. Should be in time for Santa to deliver it under the Christmas trees. Follow glenoriegrowers for more information.
The updated Gamekit will cover all new functionality, glsl materials, multilayer texture, character animation and logic states and bricks. Carsten will also clean-up the old tutorials to make them work well and add new ones, also based on Yo Frankie! As soon as the first tangible results come back from the designer, and we know more about final scheduling, we'll add the new book in the store for pre-ordering.
As for all recent Blender Foundation/Institute products, we'll publish it all under an open license too: the Creative Commons Attribute. The work Carsten realizes will also be provided to the wiki team.
This also means that's it is about time to make the old Gamekit pdf + CDROM freely available too. Download the pdf and the cdrom (includes Blender 2.25) here:
http://download.blender.org/documentation/gamekit1/
Have fun! And please note that the book and .blend files were written for Blender 2.25.
-Ton-