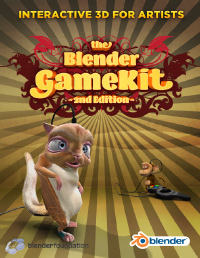 The Blender Gamekit book update project is now in its last stage. We're reviewing the designed pages, finishing the cd for the book, and hopefully within one or two weeks it goes to print! (But you know, planning doesn't match human limitations always!)
You now can start pre-ordering copies even. Up to december 15 with a nice 20% discount!
Click here to visit the Blender e-shop.
Needless to say: revenues will help Blender Foundation projects (and me & Brecht coding 2.5! 🙂
-Ton-