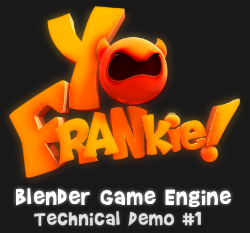 Time for an update from the Blender Game Engine team! and guess what.. we've got something you can play!
Being this the first Blender Game Engine demo we publish, it will only focus on the technical side, so don't expect big gameplay experience, in this demo we provide a small level with a few platforms and some characters running around, so you can test if the blenderplayer runs on your computer and we can have nice feedback from that.
Please check the yo_readme!.txt file, it will guide you through the controller keys, and how to setup Blender for running without some gfx features for older computers. (even a spanish version! : )
---
You can get Yo Frankie! Demo #1 right below, basically there is a version with and without GLSL, while GLSL gives you nice shaders, real time shadows and other features.. it can be very expensive, so if the game runs any slow in your computer, you should check the version without GLSL).
---
Update #2
YoFrankie! Demo 1.2!!
Updated the Source files, Linux, Windows and OSX binaries!
Release logs 🙂
– Press F1 for help!
– Fixed major slowdowns in game.
– Plenty of fixes in the GLSL side and some warnings in game.
– Updated Bullet Physics System.
– [Linux] built-in (static) libraries!: OpenAL, FreeALUT, libGCC, and Python.
Remember you can always use the source files with a recent Blender build!

---
Update #1
Updated the Linux version to use static python (so it doesn't depends on the one installed in the computer), also doesn't use gettext, exr, and some others.
Tagged it as 1.1 so you can keep track of which version you're playing.
---
Linux:
---
Windows:
---
OSX:
---
At the right is an image you can see how the game should look with and without GLSL.
Note: If the binaries doesn't run, you can always open the '.gamedata.blend' in a very recent Blender build (trunk, not the apricot branch, built today or yesterday) and run it (the readme file is also embedded in the Text editor, so you can read it in Blender).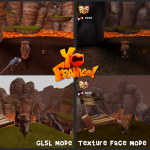 We want to make sure you all can play the game before we give more features away, once this demo is successful and we know it plays well in most computers, we plan to release a new demo with more gameplay and features.
We hope you enjoy it!, leave any technical problem right below, gameplay suggestions are also welcome but this time we are focusing mostly on having YoFrankie! running 🙂