Its almost over, some submissions have already been handed in but I'm expecting to see some more levels so no conclusions yet! Suffice to say that I'm happy with the outcome so far and there will be a 1st, 2ns and 3rd.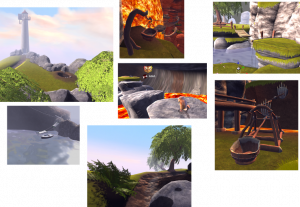 Heres a list of things to check off before you upload your level to make it easier for me and others to play.
Make sure your blendfile can be played without changing layers or settings.
Remove unused objects from hidden layers, especially high poly objects which will increase startup time. (If you want to keep them as a reference move them into a backup scene).
Set your paths relative so files work on other peoples computers (File->External Data->Make all Paths Relative)
Try move your files into a new directory and check the level loads without any errors in the console. To check image paths are still valid run (File->External Data->Report Missing Paths).
Check the files before you upload them. remove blend1 files or other unneeded files.
If you miss one of these I can still load it to review but its easier for everyone if your blendfile playes with minimal tweaking.
I leave for winter-camp tomorrow so please get your levels in by today (the 28th), Try for no later then GMT -12 so nobody has a disadvantage.