About
Project Apricot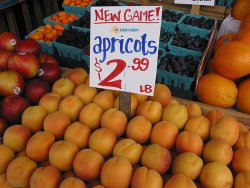 After Orange and Peach, Blender Institute continued with a new open project: Apricot. This time it wasn't a movie but a 3D game! Starting february 1st 2008, a small team of again the best 3D artist and developers worked on a game jointly with the on-line community. The main character in the game has been based on the short 3D animation open movie Peach. The project ended in august, and in october 2008 the DVD and game was released.
The Game
The original project goal was to work on a cross platform game (at least Linux, Windows, OS X), using Blender for modeling and animation, Crystal Space as 3D engine and delivery platform, and Python for some magic scripting to glue things together. The purpose was to not only make a compelling 3D game experience, but especially to improve and validate the open source 3D game creation pipeline, with industry-standard conditions.
Halfway during the project, we noticed the great advances made in Blender's internal Game Engine, so we've added delivering the project entirely in Blender as a target for Apricot as well.
Targets
– Validation: create full functional game prototype, industry quality
– Crystal Space development: HDR lighting, game logic, character animation
– Blender development: animation prototyping, pipeline improvements, GLSL (node) shading editor, improvements in logic editing (states), general Blender GE improvements.
– Realize in Open Source (GPL/LGPL), deliver in Open Content (Creative Commons)
– Education: Training/workshops, presentations, documentation, DVD
How
The Blender Foundation and Crystal Space community will be the main financiers for Apricot. Additional support will be by Grupo Ikusnet and the Dutch Game Days Foundation. As for the previous open movies, a pre-sale campaign to purchase the DVD has been organized by the Blender Foundation as well as by Crystal Space.
Sponsors or Partners
Sponsors who have helped realizing Apricot:
Donations
Blender Foundation donations are still welcome for future projects. Click on the button below, or use foundation(at)blender.org to do the payment to
Creative Commons

The Apricot open game project, the data we've published online and on the DVDs, and all of the contents on this website has been licensed under the Creative Commons Attribution license 3.0. If any content on this site is not licensed as such, it will be clearly indicated. In short, this means you can freely reuse and distribute this content, also commercially, for as long you provide a proper attribution.The attribution is:(c) copyright Blender Foundation | apricot.blender.org. Excluded from the Creative Commons is: all logos on this website (including Blender logo, Apricot logo, Yo Frankie! logo, Creative Commons logo) and associated trademarks.
Website credits