UPDATE: Tomorrow there will be an update with those animations we'll be including. Thanks for all the contributions, you guys are doing awesome, keep going! There's also been a few questions, and here are the answers..
1. Yes you can use 2.46 to animate. To view Frank with glsl you'll need an apricot build though. You can get one from graphicall.org
2. There is no deadline really
3. You can modify any animations you'd like, even ones that appear finished, if you think you can make it better, but please don't change anything on the skeleton.
Here is Frank, in all his glsl shaded glory. Pablo has pretty much finished his textures and one of the tricky parts was the tail. I created the tail with the shell method, which means the tail mesh is duplicated multiple times and fattened(alt+s) so that it's slightly bigger each time, with each outer shell having an alpha texture that is a noise pattern colored by the base color map.
Now, here's how you can help out. Frank has some animations that haven't been made yet. We considered working with a few externals like Peach had done, but thought it would be more fun to release Frank to the community and see what you can come up with.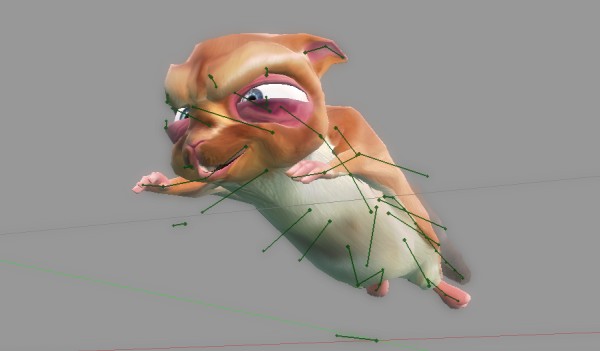 So the deal is, download the blend file here, make some animations, then post a link to the blend file in this post in the comments below. We'll look at all of the entries and if your animation is awesome, we'll include it in the game and you'll get a spot in the credits. We won't be able to be the director to everyone making animations, so only animators whose work we include will receive a reply. When you post your work, be sure to leave your name and email address. All work that's sent to us and is included in the game will be released under the same license as the game, Creative Commons 3.0 Attribution.
Some animations we have are placeholders that need to be redone, so look through the actions list in the blend file and find one you think would be fun to redo, and do it. Here's a list of some of the animations we really need though. As far as style for animation goes, we're looking for fun and exaggerated animations.
Idle(fun stuff, scratching his ass, etc.)
Jump
Double Jump(front flip, wing flap for boost, etc)
Getting hurt(minor damage)
Getting hit(impacted, rammed into)
Shimmy left and right while hanging on ledge
Falling(dropping down from a high place)
Throwing nuts